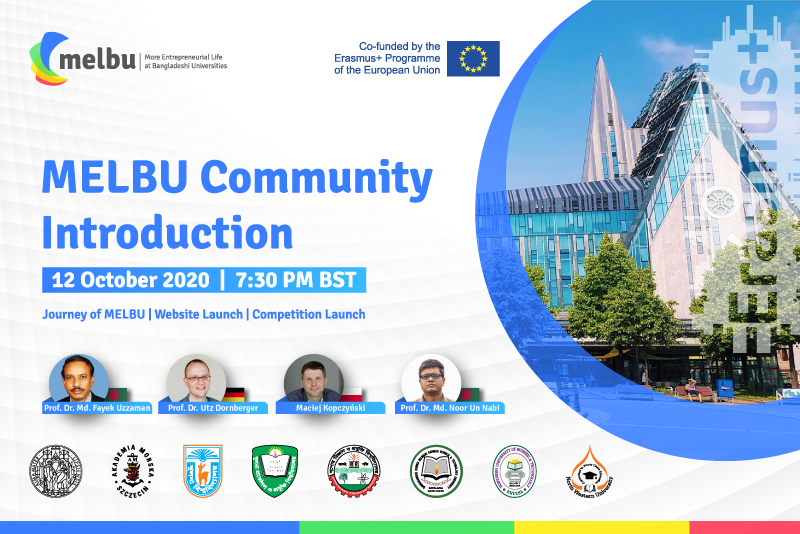 Project MELBU has organized its first webinar with a goal to take the project activities public. The webinar was held on on October 12, 2020.
The webinar titled "MELBU Community Introduction" was attended by Prof. Dr. Md. Fayek Uzzaman, Vice-chancellor, Khulna University; Dr. Utz Dornberger, Director, International SEPT Program, Leipzig University; Maciej Kopczyński, PhD Engineer, Maritime University of Szczecin; and Prof. Dr. Md. Noor Un Nabi, Professor, Khulna University.
Dr. Md. Noor Un Nabi gave the welcome speech followed by Maciej Kopczyński, who briefly discussed MELBU's journey. Dr. Utz Dornberger voiced the importance of entrepreneurship education for the university students in his keynote speech.
Dr. Md. Fayek Uzzaman gave the inaugural speech where he addressed the live audience and launched the official website of project MELBU followed by the announcement of MELBU Future Founders League, the first flagship business idea competition of the project.
The webinar was later took over by the MELBU Support Team where they responded to the queries of the live audience regarding the project and the competition.
Co-funded by the Erasmus+ Programme of the European Union, the project MELBU is a transnational cooperation project, based on multilateral partnerships between eight Higher Education Institutions (HEIs) from Germany, Poland and Bangladesh.